# Invoicing
Thank you for your cooperation with Zalando, we are very happy to work with you as a business partner in the future. To allow a smooth cooperation, please read the following instructions carefully.
Table of content:
# How can you, as a Zalando partner, send invoices to Zalando in the future?
There are three ways of issuing e-invoices to Zalando. In all the three below mentioned options no fees will occur for you. In the following, the three different options for sending invoices to Zalando will be briefly explained.Please note, that for environmental reasons, we will only accept paper invoices until 10/31/2019. From now on invoices must be sent digitally to us. We offer the following three free ways for you:
CSP (Coupa Supplier Portal)
SAN (invoice generation via E-Mail)
cXML (invoice generation via Code)
Feel free to contact us at einvoicing@zalando.de and tell us which of the three ways you prefer. We will gladly assist you with the digital invoice creation.The customer reserves the right to change the invoicing to collective invoice.
# Compliant Electronic Invoicing
Coupa Supplier Portal (CSP) or
Supplier Actionable Notification (SAN) and Direct Connection (cXML)
enable legally compliant electronic invoicing according to §§ 14, 14a of the Value Added Tax Act (UStG). In the context of a long-term and strategic cooperation, we recommend a medium-term conversion of your invoicing to one of the first three options.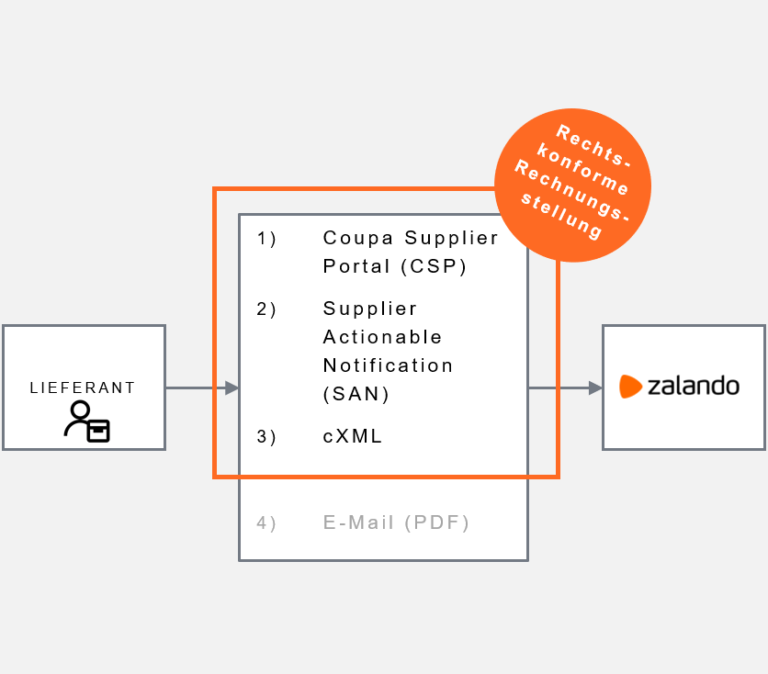 # Direct Connection (cXML)
Means an electronic direct connection and allows the automatic electronic exchange of invoice data. This way of connection is recommended if you send us more than 100 invoices per week. You have the option to integrate your pre-systems. If you would like to use this way to send our invoices electronically, please reach out to einvoicing@zalando.de, so our colleagues can get in touch with you to exchange further information on this topic.
# Coupa Supplier Portal (CSP)
The CSP is an open supplier portal, serving among other things, as a self-service platform for suppliers and provides convenient and easy access to all invoices for you as a supplier. In addition, you have the ability to convert order data into billing information (PO-Flip) and create credit notes. The transparency provided by the portal allows you to see the status of your invoices. Furthermore, you can submit catalog data via CSP to Zalando to add new items or update current articles and prices. There is only a one-time free registration in the CSP necessary. To be able to register on the portal, you will receive an invitation from us upon request. If you already use the CSP with another customer, you will not need to re-register. We recommend choosing this option if you send more than one invoice per week to us.
If you are interested in further information about the used system, please visit the Coupa Website (opens new window).
# Supplier Actionable Notification (SAN)
The SAN is a patented technology of Coupa. Take advantage of the received order per mail from Zalando to start immediately the electronic invoicing process. The email contains a button "Create Invoice" that allows you to access the Coupa platform without logging in and to generate an invoice from the order. This option will become the future Zalando standard if you only send invoices sporadically to us and you do not want to use the above options.
Please, find training material for the einvoicing channels SAN and CSP here: Download PDF
# What compulsory information must be contained in invoices and credit notes pursuant to §§ 14, 14a of the German Value Added Tax Act (Umsatzsteuergesetz, UStG)?
Please ensure that all invoices and credit notes are in line with the respective local VAT requirements. In Germany, it is mandatory to follow §§ 14, 14a of the German VAT Act (Umsatzsteuergesetz/ UStG) which requires the following information on invoices/ credit notes:
Your full name and address
Our full name and address -> Please ensure to name the right Zalando entity
The date of issue (of the invoice/ the credit note)
A sequential invoice number/ credit note number
The time of delivery/ the service period
The agreed shipping address (when different than the invoice address)
The content of delivery, i.e. the amount and type of goods or services delivered
A specification of the net and gross amount and currency as well as the tax amount and the applicable tax rate
Any reduction of the value agreed on in advance
Your tax number or your VAT ID number assigned by the Federal Tax Authority
For sales regarding to § 13b UStG, the indication of the transfer of the tax liability (reverse charge) to us plus your VAT ID number and our VAT ID number
In addition, please make sure
To indicate whether it is an invoice or a credit note
To list the agreed payment terms and your bank details
To add the Purchase Order (PO) number on the document when goods/ services where ordered via a PO.
To invoice to the right Zalando entity as indicated on the PO.
Not to send one invoice for several POs.
To issue invoices that match the corresponding POs (e.g. lines are in the same order, item descriptions are the same, no items are included that are not on the PO).
To add the name of your Zalando contact and his/ her department on the document when goods/ services were ordered without a Zupply purchase order (PO).
# Where can I send the invoices?
See Frequently Asked Questions (opens new window)
We expect to receive invoices electronically as mentioned under point 1.
In order to ensure a smooth process handling your billable invoices we kindly ask you to follow our requirements:
Include a PO number and/or
Clearly state the name and email of the Zalando requestor
sent your invoice (pdf) direct to invoices@zalando.de
country specific addresses apply for:
Please be aware, from January 1st 2021 we will not accept any incoming invoice where the PO number or/and the name/email of the Zalando requestor is missing.
Please, also note that:
Each invoice, including any attachments, should be properly scanned and sent as one joint PDF file.
Invoices with more than one page should be joint in one PDF document.
One email can contain multiple PDF files but the total email size cannot exceed 10MB.
We do not accept ZIP files, Word or Excel documents.
We do not need a paper copy if a PDF invoice is sent.